Light-Sound Devices or Mind Machines
You can find a variety of good Light-Sound (LS) devices on the market today. A LS-device typically stimulates the brain indirectly with light flashes through goggles and sound stimuli (beats) through earphones. These stimuli will cause the brain to adjust to the frequency of the flashes and sounds and consequently generate the corresponding level of awareness. However, all LS-devices have a serious flaw: They depend on earphones and goggles to be effective. In other words: if you want to access a specific level of awareness such as charismatic appearance, calm, or creativity, you need to get the stimuli through earphones and goggles.
Therefore it is quite obvious that you cannot wear these LS-devices when you really need them. Just imagine appearing on a date, an important business meeting, or a sports competition with a LS-contraption on your head! And you cannot do creative writing or art either while carrying such a LS-device on your head. You need to wait till you can take it off your head, and then your brain waves will adjust back to their usual state relatively fast.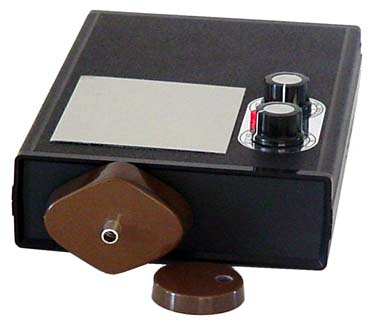 That's exactly where an LPOG 2400 DL makes a difference – and it makes a big difference at that !!! By now it is well-established that the technology of the Chi Generator® is far superior over the conventional type light-sound mind machines. The reasons are very obvious: You can set up the Chi Generator® to emit Low Pulse Orgone in the exact frequency of brain waves you choose: Alpha, Beta, Theta, or Delta. When you are in a field of LPO (Low Pulse Orgone, or Chi), your brain can adjust to its frequency almost instantly. This is so, because the detour over sensory perceptions or questionable electric mini-shocks (as in a couple of more recent devices) is no longer necessary. Life force, which pulsates in the frequencies of brain waves, means a more effective impact and therefore faster results. You achieve the corresponding states of your mind almost in an instant !!! Moreover, the low frequency orgone energy goes directly into your system, wherever you want it. Therefore, binaural beats and similar excellent solutions of a past without generators of pulsating life force (orgone energy) are no longer needed! The most striking advantage of our LPO technology over conventional type mind machines is the fact that you can project LPO (Low Pulse Orgone) at any distance. Simply use a of structural link such as the transfer disk of the TC 99 Transfer Couple or of the PBT 2400 Power Booster, put it into your pocket, set your LPOG 2400 DL at the desired pulse speed, and then go to a business meeting, on a date, to the gym, to a sports competition, or anywhere else.
Nobody will notice your invisible helper! That's all! You can relax or go about your usual business at any place.
There is certainly no need for you to have those cumbersome and ridiculous goggles, earphones, or other contraptions, on your head ever again!
Use archaetypal or astrology-based filters, one of the Manifestation Programs and/or the PBT 2400 Power Booster to power up any activity you desire !!!
Naturally, any radionics device that you put into the life force field of an LPOG 2400 DL or any other Chi Generator® will be more effective. It becomes then a Power Radionics™ device that is boosted with life force !!!
The manual that comes with your LPOG 2400 DL will introduce you to the uses above, and then some!
All our Chi Generators® have silver tubing as output: Silver is a favorite of all professionals when it comes to energizing the body.
Free Transfer Couple included - you can put the rectangular part on your key ring or anywhere else close to your body.
The PBT 2400 Power Booster with Transfer Disk effectively doubles the output - see images above. Put the booster part on top of the device or you can slide it over the output pipe, while you carry the second transfer on you, or you can put the transfer into a specific location, for instance a desk or chair, where you can attach it to an inconspicuous place, where it is close enough to the body to be effective, yet out of the working area and, if needed, out of sight.